GAMMS (Galileo/GNSS Autonomous Mobile Mapping System) project had a remarkable presence at the Galileo HAS Days, hosted by the European Union Agency for the Space Programme (EUSPA), on the 28th and 29th of June 2023. The event took place at the prestigious Instituto Nacional de Técnica Aeroespacial "Esteban Terradas" in Madrid, Spain.
Representing the project's consortium, Filipe Carvalho, a GNSS Engineer at Deimos Engenharia, played a pivotal role in this liaison activity by showcasing the GAMMS-H2020 and SCORPION EU Project at the booth. During the event, the achievements and potential of the project to the event attendees were effectively highlighted.
The Galileo HAS Days provided a vibrant platform for industry professionals, researchers, and stakeholders to gather, exchange knowledge, and foster collaboration. This event was an excellent opportunity for the GAMMS project to demonstrate its advancements in autonomous mobile mapping systems and the integration of Galileo/GNSS technology.
What do #precisionagriculture and #autonomousnavigation have in common? They both depend on positioning accuracy. These are also two different applications of Deimos #GNSSreceivers making use of #Galileo High Accuracy Service, that were introduced during EUSPA's Galileo HAS Days, on the 28th and 29th of June:
GAMMS-H2020, a project to develop an autonomous mapping robot for geodata acquisition using an #AIbased mapping software, to produce HD maps for autonomous vehicles. Filipe Carvalho introduced GAMMS-H2020, an Autonomous Terrestrial Mobile Mapping System, based on the tight integration of #autonomousvehicles, #navigation and #AI technologies. Deimos is developing the Galileo triple-band receiver to be used in the project, to improve the navigation solution and allow for a better quality HD map, using the Galileo High Accuracy Service data.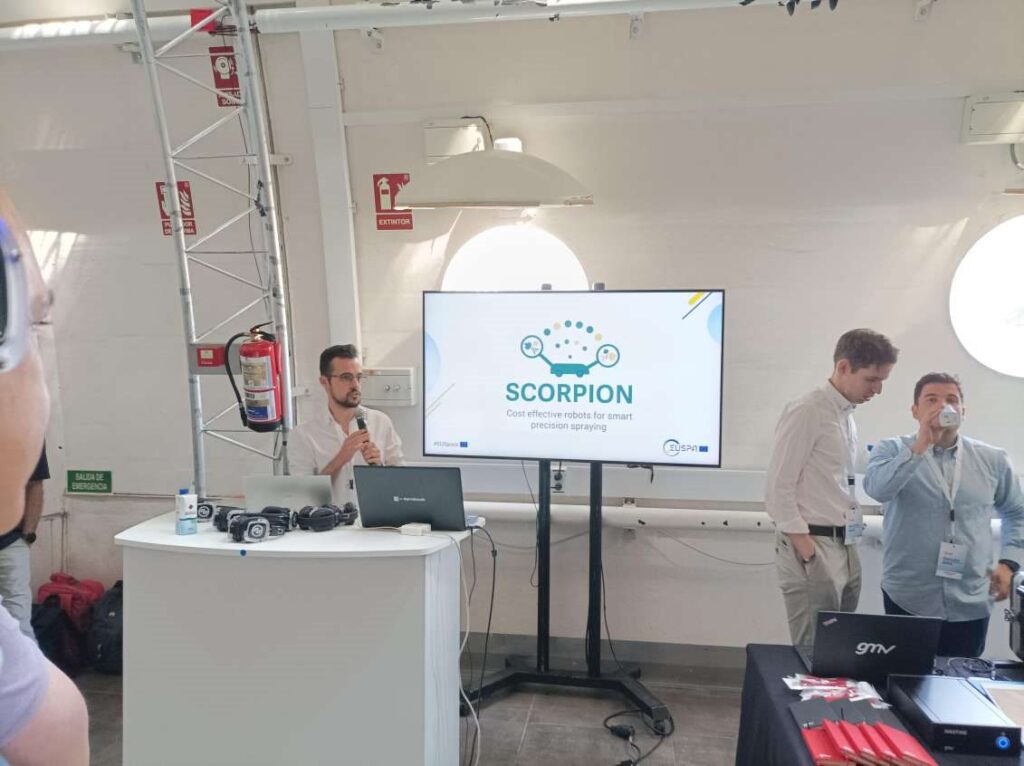 With a rich program of presentations, exhibitions, and networking opportunities, the Galileo HAS Days showcased the latest developments in the field of space technology and applications.
The participation of GAMMS in this event exemplified the project's commitment to pushing the boundaries of Galileo/GNSS technology and revolutionizing the field of autonomous mobile mapping systems. The consortium is excited to leverage the insights gained from the Galileo HAS Days to further propel innovation and contribute to the advancement of the industry.
GAMMS´ MISSION: The overall objective of GAMMS is to develop an autonomous terrestrial mobile mapping system (AMMS), based on the tight integration of: Autonomous vehicles (AVs), Navigation/geodetics, Artificial Intelligence (AI) technologie.
To get a closer insight into the GAMMS H2020 project, please join us via social media: 
LinkedIn: @GAMMS-H2020
Twitter: @GAMMS_H2020